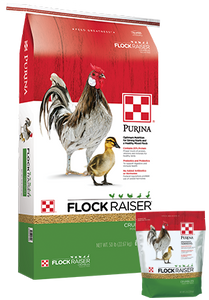 Flock Raiser Sunfresh Crumble
Research-proven feed
Purina® has been conducting poultry research for nearly a century. We have a flock of backyard birds at the Purina Animal Nutrition Center to help our nutritionists, feed formulators and flock caregivers evaluate our feeds before we put them on the market.
Extra support during molt or feathering
Help birds through molt or times when feathering needs some extra support. 
Male and meat birds
Offers the right amount of calcium, a strong start, uniform growth and excellent vigor. Use this feed for starting, growing and finishing birds intended for meat production.
Healthy immune system 
Rich in antioxidants and optimized levels of Vitamin E. It also contains prebiotics and probiotics to support immune and digestive health.
---
We Also Recommend