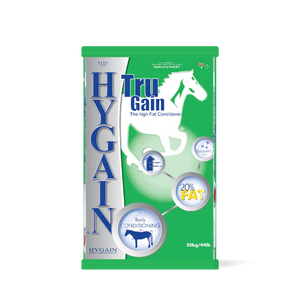 Hygain Tru Gain
Hygain® Tru Gain® is an extruded fat supplement that provides a slow-release energy source that supports body condition and improved coat quality. Added vitamin E and selenium provide antioxidant support for optimal health. Tru Gain® is ideal for weight gain, sale conditioning, performance horses and young growing horses.
Extruded to maximize fat stability and digestibility
Hygain® RBO® rice bran oil for shine and omega-3, omega-6 and omega-9 fatty acids
Natural vitamin E for antioxidant, circulatory, and cardiovascular functions
ingredients:
Soybean Meal, Wheat Mill Run, Rice Bran Oil, Calcium Carbonate, Natural Vitamin E, Selenium Yeast.
---
We Also Recommend